Our Custom Orthotics Process
your path to feeling, moving, and performing better
01
digital foot assessment
Digital Foot Assessment
Knowing whether you have a foot problem that needs addressing is the first step on your journey towards better health and wellness.
Problems in the feet, whether you have foot pain or not, can cause problems and pain in other parts of the body such as the knees or low back, even the neck.
W offer a complimentary digital foot assessment to establish whether you have a foot dysfunction and could benefit from custom orthotics. The latest technology allows us to instantly assess the alignment and structural integrity of your feet and objectively pre-determine your orthotics needs.
During your complimentary consultation, we also provide you with footwear education and answer any questions you may have about how custom orthotics can help you feel better, move better, and perform better.
Book a FREE digital foot scan based on cutting edge technology to get started.
Intake Appointment
Your intake appointment consists of 3 parts that are seamlessly integrated:
(1) CLINICAL EXAM: Our clinical assessment consists of your health history, a lifestyle and footwear assessment, a biomechanical examination, and a gait analysis.
In order to reduce your time in the clinic to provide you with the safest and most efficient experience, your health history may be taken over the phone (Telehealth Appointment) prior to your in-office appointment.
(2) REPORT OF FINDINGS: We will review the findings of your clinical exam, present a diagnosis, and propose a plan of management.
(3) ORTHOTICS CASTING: Once your need for custom orthotics has been established, you will be casted for orthotics. We primarily use advanced digital scanning technology as a fast, accurate, and environmentally friendly alternative to foam casts.
Your custom orthotics will be ordered following your intake and full payment is required at that time.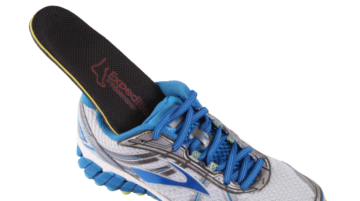 Orthotic Fitting & Clinical Follow-Up
ORTHOTIC FITTING: Your fitting appointment is usually scheduled within 2 weeks of your intake appointment. During this appointment, you will also be provided with instructions on how to properly break in your orthotics.
Since custom orthotics work best in proper footwear, we will also do a footwear audit with you. This will give you the knowledge you need when assessing your footwear at home and when shopping for new footwear.
Before we let you go, we will briefly re-assess your posture, gait, and select functional movements while you are wearing your new orthotics.
CLINICAL FOLLOW-UP: To ensure comfort and compliance of patients fitted with orthotics, a clinical follow-up (Telehealth or in-office visit) is usually scheduled within 90 days of your fitting appointment.
Should your orthotics require adjustments, you can rest assured that we will make every effort to fine-tune your orthotics to your and our satisfaction.
find out if you could benefit from orthotic therapy
book a complimentary digital foot assessment to find out if your feet are functioning optimally