DO YOU stand or sit a lot throughout the day?
do you experience tired, achy OR swollen legs at the end of the day?
DO you want to improve your athletic performance & recovery?
1 out of 2 people will develop some form of chronic venous disease in their lifetime. Venous disease is a weakening of the veins, i.e. the blood vessels that carry oxygen-depleted blood to the heart. When the veins of the lower limbs are affected, reverse blood flow and blood pooling in the lower legs can result.
Discomfort of the legs like heaviness, tiredness, aching, itching, and pain, can be first symptoms of venous disease. Swelling (edema), varicose veins, and spider veins are also signs of venous disease.
Venous ulcers (i.e. unhealed sores or open wounds on the legs) can develop as a severe consequence of venous disease. If left untreated, they are associated with chronic disability, diminished quality of life, and high health care costs.
While there is often a genetic predisposition, other factors can predispose you to venous disease:
sedentary lifestyle
lack of exercise
smoking
pregnancy
obesity
advanced age
history of deep vein thrombosis (DVT)
prolonged standing or sitting
The good news is, many of these risk factors are modifiable, and there are non-surgical treatments and preventative measures available.
Compression therapy can be used to manage as well as prevent venous disease. Compression garments (hosiery), such as calf sleeves, stockings, leggings, and pantyhoses provide a desired grade of compression to the lower extremities for the purpose of facilitating venous blood flow to the heart as well as reducing swelling and discomfort associated with reverse blood flow and pooling in the legs.
We generally distinguish between medical and consumer compression garments. Medical compression hosiery provides a minimum of 20-30mmHg and requires a prescription from a qualified physician. It is recommended for the management of chronic venous disease. Many extended health benefit plans cover medical compression hosiery (with valid prescription), and patients may be eligible for multiple pairs per year.
Consumer compression hosiery (most commonly stockings), provides up to 15-20mmHg compression and is available over-the-counter. It is recommended as a preventative measure, for travellers, athletes, as well as for the relief of heavy, achy, and mildly swollen legs in healthy patients.
At Urban Soles, we offer a professional medical compression hosiery fitting, where we take your measurements and fit you with premium compression garments that not just meet your prescription requirements but also your lifestyle needs.
Choose from a full line-up of SIGVARIS compression hosiery or let us recommend the best fabrics for your occupational demands and lifestyle. SIGVARIS is the only manufacturer of compression garments to use premium natural fibres. Dr. Hess is a certified SIGVARIS compression hosiery fitter.
Compression Hosiery Fitting
professional + personalized
Measurements
During your initial visit, measurements of your lower extremities will be taken to determine your compression hosiery size. After reviewing your prescription, occupational demands (if applicable), and lifestyle factors, we present you with our best recommendation for your compression hosiery requirements.
For compression hosiery of 20-30mmHg or higher, you will need to present us with a prescription from a physician (no older than 12 months).
Ordering
Your compression hosiery will be ordered for you from the manufacturer, and full payment is due at that time (i.e. your initial visit).
You will be provided with a receipt that you may submit to your extended health benefits provider for reimbursement (please confirm your insurance coverage before booking your appointment).
If your desired compression garments are in stock, we will receive them in a few days and schedule you for a fitting appointment.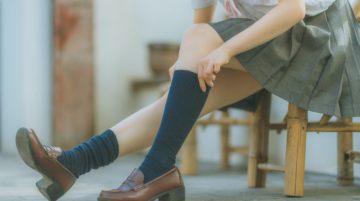 Fitting
During your subsequent visit, we will teach you to how to don/doff and care for your compression hosiery to ensure proper fit and performance.
Please wear pants that can be rolled up to the knee or bring shorts.
medical compression hosiery pricing
20-30 mmHg
$160 sigvaris style (CALF)
$165 sigvaris motion (CALF)
FOR OTHER COMPRESSION GRADES AND STYLES (THIGH-HIGH STOCKINGS, PANTYHOSE, WRAPS ETC.) CONTACT US FOR PRICE INQUIRY
SIGVARIS Compression Hosiery For Tired, Achy, Swollen Legs
Lifestyle Assessment & Fabric Recommendations
Professional Fitting
Donning/Doffing Tutorial
Garment Care Tips
Insurance-Accepted Receipt
Donning/Doffing Aids available (optional)
0% GST (prescription required from qualified healthcare provider)