do you have a history of chronic recurring lower limb or spinal pain?
do you only get temporary relief from manual or pharmaceutical therapy for your foot, knee, hip, or low back pain?
DO YOu stand or walk on hard surfaces for most of your work day?
do you want to feel better, move better, and perform better?
Low back and other joint pain can be linked to foot abnormalities. Most people do not know that they have a foot abnormality, because they have no foot pain. However, 8 in 10 Canadians have a foot dysfunction that can lead to knee pain, shin splints, low back pain, and even neck pain. Prolonged standing or walking, especially on hard surfaces, can exacerbate lower limb and spinal conditions.
Among professionals, 61% have moderate to severe biomechanical dysfunction. If left untreated, 70% experience pain. 17% of employees have missed work days due to their pain, and 40% of sick leaves are due to back pain.
The good news is, foot dysfunction and associated lower extremity or spinal pain can effectively be treated with custom orthotics. Custom orthotics are prescription insoles for your footwear that are designed to correct foot dysfunction and help relieve associated muscle and joint pain, as well as prevent overuse injuries.
Urban Soles custom orthotics are hand crafted from premium materials such as leather, suede, merino wool, or silver-infused synthetic fabrics for all season and occasion comfort, support, and performance. They can be worn in every shoe, and custom orthotic sandals and flip flops meet your orthotic needs at home, especially if you don't like to wear shoes in the house.
Urban Soles Custom Orthotics
SUPPORT OUTDOOR-LOVING TORONTO PROFESSIONALS & MICROMOBILITY USERS EVERY STEP OF THE WAY
Custom orthotics for Toronto e-riders help relieve pain and prevent overuse injuries during your rides. Whether you bike, scoot, skate, or ride an EUC or Onewheel, our custom orthotics correct abnormal foot function, improve riding posture, and provide shock absorption for maximum comfort and performance on and off the PEV.
Custom orthotics can help reduce overuse injuries of the lower limbs and spine by correcting abnormal foot function and restoring structural alignment of the body. Whether you are a manual therapist, veterinarian, first responder, retail associate, or any other professional who spends a lot of time on their feet, our occupational insoles got your back!
From dress shoes to sneakers, from high heels to hiking boots, our custom orthotics easily fit into all of your footwear, so that you do not have to compromise on support and comfort. Whether you are going for a ride, hitting a patio, walking your dog, or enjoying the outdoors, we have a custom insole for you. Soft and toasty in the winter, dry and cool in the summer.
Whether you are a manual therapist, veterinarian, first responder, retail associate, or any other urban professional who spends a lot of time on their feet, when you come home from work you should experience the same therapeutic support and comfort that you get from your custom foot orthotics at work. If you are a professional who works from home, our lounge line is also a great choice of footwear for the home office.
You don't need to be a professional athlete to reap the benefits of custom foot orthotics. If you need orthotics when walking, you most definitely need orthotics for athletic activities. Custom foot correction for athletes or weekend warriors enhances performance while better stability and control helps decrease injuries. Whatever sports you enjoy, we have an insole for it.
Accommodative custom orthotics are for sensitive and painful feet, especially for patients suffering from arthritis, diabetes, or peripheral neuropathy. The application of a soft or accommodative custom foot orthotic (i.e. constructed from a non-corrected model of your feet) helps decrease shearing of your feet within your shoes while absorbing shock to your lower limbs and back.
Custom Orthotics Fitting
your path to feeling, moving, and performing better
Digital Foot Assessment
Knowing whether you have a foot problem that needs addressing is the first step on your journey towards better health and wellness.
Problems in the feet, whether you have foot pain or not, can cause problems and pain in other parts of the body such as the knees or low back, even the neck.
We offer a complimentary digital foot assessment to establish whether you have a foot dysfunction and could benefit from custom orthotics. The latest technology allows us to instantly assess the alignment and structural integrity of your feet and objectively pre-determine your orthotics needs.
During your complimentary consultation, we also provide you with footwear education and answer any questions you may have about how custom orthotics can help you feel better, move better, and perform better.
Intake Appointment
Your intake appointment consists of 3 parts that are seamlessly integrated:
(1) CLINICAL EXAM: Our clinical assessment consists of your health history, a lifestyle and footwear assessment, a biomechanical examination, and a gait analysis.
In order to reduce your time in the clinic to provide you with the safest and most efficient experience, your health history may be taken over the phone (Telehealth Appointment) prior to your in-office appointment.
(2) REPORT OF FINDINGS: We will review the findings of your clinical exam, present a diagnosis, and propose a plan of management.
(3) ORTHOTICS CASTING: Once your need for custom orthotics has been established, you will be casted for orthotics. We primarily use advanced digital scanning technology as a fast, accurate, and environmentally friendly alternative to foam casts.
Your custom orthotics will be ordered following your intake and full payment is required at that time.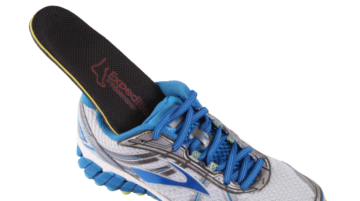 Orthotic Fitting & Clinical Follow-Up
ORTHOTIC FITTING: Your fitting appointment is usually scheduled within 2 weeks of your intake appointment. During this appointment, you will also be provided with instructions on how to properly break in your orthotics.
Since custom orthotics work best in proper footwear, we will also do a footwear audit with you. This will give you the knowledge you need when assessing your footwear at home and when shopping for new footwear.
Before we let you go, we will briefly re-assess your posture, gait, and select functional movements while you are wearing your new orthotics.
CLINICAL FOLLOW-UP: To ensure comfort and compliance of patients fitted with orthotics, a clinical follow-up (Telehealth or in-office visit) is usually scheduled within 90 days of your fitting appointment.
Should your orthotics require adjustments, you can rest assured that we will make every effort to fine-tune your orthotics to your and our satisfaction.
find out if you could benefit from custom orthotics
BOOK A COMPLIMENTARY DIGITAL FOOT ASSESSMENT TO LEARN IF WE CAN HELP YOU FEEL BETTER, MOVE BETTER, AND perform better